Perhaps You Wonder How I Got This Way
Family 'Fluences
My mother, Betty, has always been pretty crazy and fun. Make that heavy on the crazy. Here's a picture of her with one of her cats, Moet Chandon or MOE. Check out the weird, orange Hallowe'en eyes (on the CAT!). Mom's got two cats and two dogs back in Cape May Court House, NJ.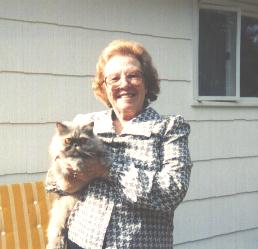 When Mom came to visit me in 1995, my Aunt Gig came along too. She's my "Nother Mother." I took them both up to Newcombs where my mom felt up one of Roland's friends (well, I had to give her money to do it). Here they're just about to take Old Pasadena by STORM!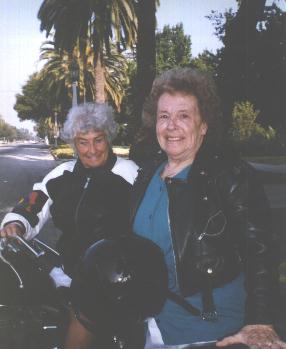 In 1984, I met my birth mother, Vicki. Now we get to the fountainhead of my pixiness! For example, she was game to try a few rides on the motorcycle: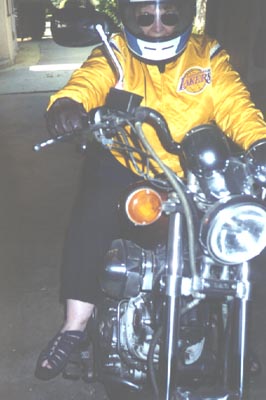 She also rode as my pillion on Love Ride 16!
---
Friend 'Fluences
When I first moved to L.A., I worked in the UCLA MBA Office with Sandy Van Leuven. We had a great time in the office. We occasionally worked. We went other places together, too (see blow, er, below). Anyone with this talent is gonna go places, wouldn't you say??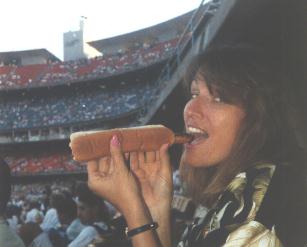 If you're impressed, make sure you let Sandy know!!
I have lived in Pennsylvania, New York, and most recently, New Orleans. I still have good, crazy friends like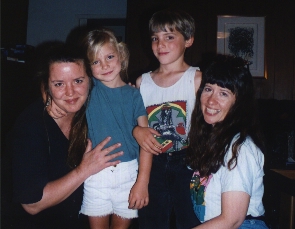 Kathleen back in the crescent city. But I've been away for nearly 10 years now, so long even the wildest ones like Kath have gone and had KIDS!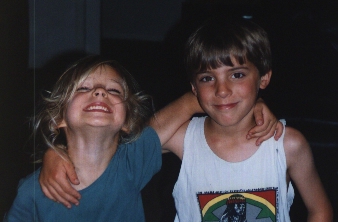 Once I get the goddam scanner to work more than 10 percent of the time, I'll have a few more pics here. That is, unless certain individuals cough up the $10,000 (cash). In the meantime, check out my present friends, the LABikers!
---

Back to the Sexy Main Menu!