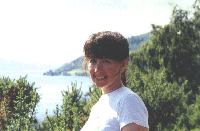 The Scotland Trip
---
If you have a fast network connection, remove the "2" from the .gif names and reload


We found Edinburgh has got a bit too commercial


I was pleasantly surprised with the answer to this mystery


But the BIGGEST shocker was, seeing the Loch Ness Monster!!


OK, here's a completely unretouched photo.
Here's Ron sitting on a wood block at Loch Leven castle, next to a lone cannon.


Seriously, Scotland was absolutely beautiful. Fifteen rolls of film CAN'T be wrong!!
---

Back to the Sexy Main Menu!